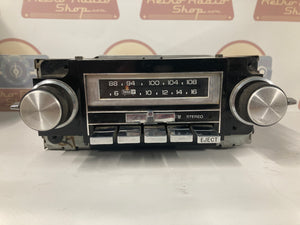 1978-87 GM cars/trucks AM/FM 8 track radio with Bluetooth
Regular price $400.00 Sale
Delco GM am/fm 8 Track radio fits 1978 - 87 car/van/truck. This radio has been serviced including deoxit to potentiometers, Rf and IF alignment.  8 Track has had new belt installed, tape path, including head, cleaned of oxides. capstan cleaned/lubricated. Tape speed calibrated with 400hz audio tone. 
This generic GM radio that will fit a number of GM vehicles. Various 73-77 GMC pickups, 78-87 Chevy and GMC pickup trucks, 78-81 Camaros and Firebirds, 78-82 Corvettes, 78-85 Monte Carlos and Buick Regals. Please check fitment prior to purchase. 
The radio has had an internal automatic switching Bluetooth board installed. Simply connect to it to play Bluetooth audio and disconnect the wireless connection to play the radios inherent AM/FM or 8 track.